How useful are audiograms in your B2B marketing?
Try combining the persuasive power of testimonial quotes, live customer references, and streaming media into a single, irresistible asset.
That's right. Audiogram testimonials are the bomb for corporate sales persuasion.
They deliver a triple-threat of credibility, memorability, and laser-targeted messaging about exactly who you help and what results you deliver.
If you're not already using them to promote yourself (and your case study content) in every channel, you will be soon.
Why Audiograms?
Audiograms are just one way you can repurpose the byproducts of the case study creation process.
Specifically, they take an audio clip from the interview and combine it with a graphic or video for an eye-catching asset you can easily share on social.
Here's an example from our client, The Alignment Company:
But what makes audiograms so effective?
The short answer is that audiograms—with their spoken testimonial, simple video backdrop, and text transcription—benefit from two strong tendencies in consumer behavior:
People trust candid peer testimonials more than scripted marketing messages
People can't resist the urge to click on multimedia posts
As we always say, anything you can do to show prospective customers that real people benefitted from your services will multiply your credibility.
Plus, the audio-visual combo lights up our brains. Studies show that when we process information with multiple senses, it engages widespread neural activity and leads to greater attention to and retention of the content.
Who wouldn't want their customer success stories to be unignorable and unforgettable?
11 ways to unlock audiogram power in your marketing
1. Flavor your feed
Nothing adds a BAM of interest to your social feed like a well-branded audiogram. You can produce them for Facebook, Instagram, LinkedIn, Twitter, YouTube, and even TikTok.
These pithy clips are a fan-friendly way to shout out your customer's win and drive traffic to the full story. Plus, they're especially effective when they make regular appearances on your content calendar.
2. Add pizzazz to paid ads
Audiograms are particularly powerful in paid advertising.
When the audience's attention is saturated and every conversion counts, a hit of living, breathing credibility can make you stand out in those precious first few seconds.
3. Turn podcast mania into your new paid platform
With podcast listenership continuing to soar, it's an amazing time to have audio-friendly ads in your media kit.
Whether you repurpose your soundbite into an engaging on-air message, or sponsor the podcast to promote your audiograms on their socials, that multimedia asset will be your first class ticket to top of mind with today's audio-obsessed audience.
4. Make your web pages POP
Nothing nets attention like an unexpected audiogram embedded in a web page or blog post.
Here's an example of how our clients at Loganix use audiograms to amp up their testimonials page.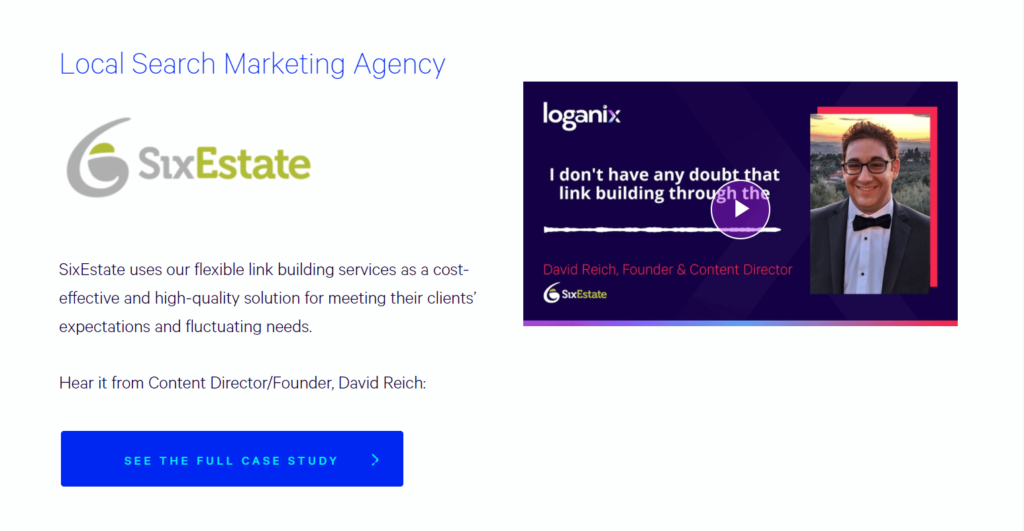 5. Electrify your emails
Imagine clicking into a message from a company you've been considering, and instead of an epic missive in "sales speak," you get a short, sweet audiogram about how they solved the exact problem that's been herniating your discs.
6. Rocket-power your retargeting campaigns
One of our clients saw amazing results in a paid campaign that featured an audiogram to drive traffic to a full case study.
The study itself had no CTA, but when they retargeted the people who clicked through a little while later, the conversion rate blew them away.
7. Turn an audiogram into a spectacular illustrated short
Instead of the standard waveform or brand logo as your backdrop, you can use your audiogram to create an absolutely arresting illustrated video that will charm the pants off your viewers.
Check out this illustrated audiogram we produced for Andrew Yedlin and hold onto your belt.
8. Always add text
We know that a certain amount of social scrolling is done sans sound.
Yet according to American PR and Marketing firm Matter, audiograms boost engagement even when they're viewed on mute.
The simple movement of a sound waveform is enough to perk up the old brain box and make the viewer tune in to the transcription text.
Maybe that sensitivity to motion is a throwback to our Jurassic ancestors?
T-Rex would definitely click on your audiogram. If his arms were long enough.
9. Enjoy the engagement of video without the overhead
With minimal editing and hardware (a good mic and half-decent internet connection are all you need), you can produce a polished clip that lets your solution shine.
Neither you nor the customer has to stress about weird lighting, distracting backgrounds, or not knowing what to do with their hands on camera.
10. Give your audience an option that compliments your written content
Whether your viewers' eyes are weary from eight hours of work emails or they need non-visual accessibility to power their climb to greatness, they'll appreciate the thoughtfulness of a light, refreshing audiogram to get your point across.
11. Don't forget to secure permission to use the interview recording
Because we're veterans of this rodeo, we always ask the customer up front if we can repurpose the interview into shareable audio clips. Anticipating details like that helps you get the most from your case study and keeps the experience silky smooth for your clients.
So, now you know how to obliterate skepticism and crank up the electromagnetism of your customer success stories with audiogram marketing.
Want to turn your case study into the world's most irresistible assets?
We hang our hat on helping B2B companies create an entire campaign of content from one solid interview.
Contact us to get started.