Case studies make ideal assets for sales enablement.
When your sales reps can show prospects a success story about a customer just like them, it instantly positions your solution as the perfect fit and greases the wheels for an enthusiastic yes.
But in spite of their streamlined persuasion power, your sales team might not be utilizing your case studies to their farthest possible extent.
Why is that the case?
It might be because your existing case studies:
Don't speak to the types of customers your reps are currently targeting, e.g. you're going after enterprise clients and all your case studies feature mom-and-pop shops.
Are in formats that don't jive with your reps' sales activities, e.g. you have fantastic narrative case studies, but your sales team is in desperate need of a short slide deck.
Are housed in a messy CMS that makes it hard to find and share them, e.g. your sales rep vaguely recalls a case study that might appeal to a lead—but they don't want to spend 45 minutes searching for it.
If any of these scenarios sound familiar, your most powerful selling stories may be relegated to the bench.
Luckily, there is a way to get back in the game.
All you need is a plan to align your case studies with your sales enablement strategy.
With a smart approach, you can make sure that every customer success story is relevant, convenient, and effective at helping your sales team close more deals, faster.
Better yet, if you put your sales reps front and center in the process, they'll become the biggest champions of your case study strategy.
Try these 16 tips to amp up sales with your customer case studies.
16 Ways to Unleash the Power of Your Sales Team with Case Studies
1. Write case studies that are relevant to each market segment by choosing subjects that mirror the types of customers your team is pursuing. Match factors like pain points, company size, industry, location, or niche.
2. Put your sales team at the centre of your case study strategy.
Ask them what kinds of case studies they need to overcome customer objections.
Have them nominate customers who would be perfect examples to sell to their target audience.
Find out what formats would work best in their workflows.
Get them to introduce case study participation during onboarding and highlight the cross-promotional opportunities it can bring.
Ask them about their clients' biggest challenges and most coveted benefits so your case studies can hit the bullseye every time.
3. Produce the same case study in multiple formats so your reps can deliver the right level of detail at the right time for a frictionless purchase process.
4. Match the length of the case study to the prospect's stage in the buyer's journey.
At the awareness stage, offer short-form case studies. Short studies help establish that your solution fits their problem and open an information gap that makes them curious to learn more.
At the consideration stage, provide longer-form case studies that allow prospects to dive deeper into how you compare to other options.
At the decision stage, wrap it up with shorter formats that validate the purchase and spotlight specific metrics like ROI, time to payback, and time to profit.
Here's a sample from a longer case study that compares our client's solution with its competitors: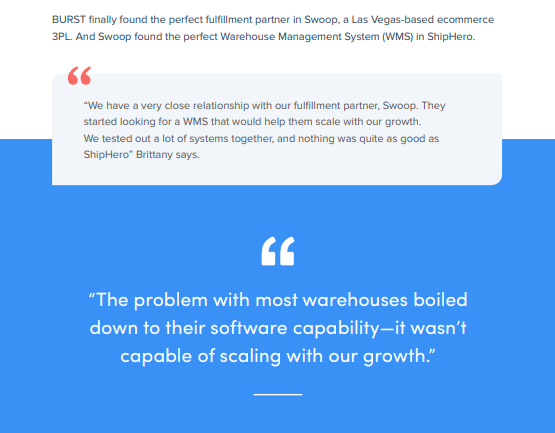 5. Get into the weeds with team leads and managers with detailed case studies that answer their questions about your product's features, capabilities and benefits.
6. Create a one-sheet summary for executive decision-makers so they can quickly determine the value you will bring and justify the decision to their stakeholders.
7. Create a catalogue of one-sheet summaries for reps to show off at conventions and meetings.
8. Have reps email a testimonial video or audiogram from a case study as part of their nurturing process.
9. Build a slide deck out of a case study for account managers to walk through during a sales call. With highlights of the heroic win and compelling testimonial quotes, they're persuasive in virtual meetings and in-person.
10. Provide professional .pdfs of success stories that sales reps can share during follow-up to keep your solution top of mind.
Here's a one-sheet case study we made for a client that would make a great follow-up email: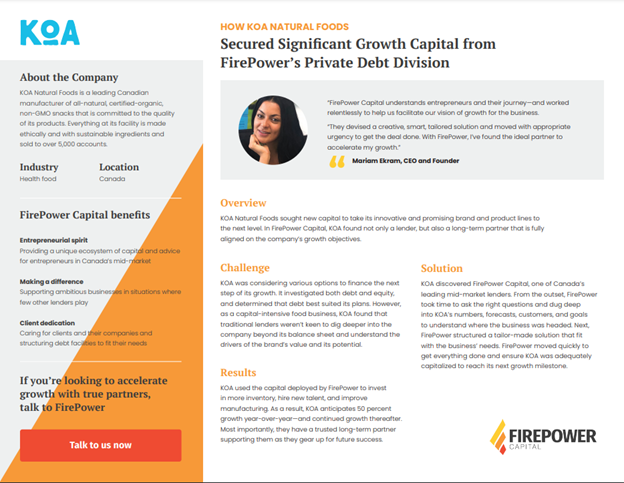 11. Set up a sales-friendly CMS for your case studies so reps can quickly find a relevant story to answer questions or address objections.
12. Make your case studies searchable by format, industry, company size, niche, or challenge so reps can easily find and share proof that your solution is The One.
13. Use case studies in your sales training. Nothing drives home the details about the problems you solve, the unique features of your solution, and the results you can boast like your own success stories.
14. Give your sales team specific training on the many ways they can add jet fuel to their sales activities with case studies.
15. Run a contest to see which sales rep can make the most case study-attributed sales.
16. Create a case study about how your top-selling reps used case studies to move the needle on key sales objectives.
With these approaches, you'll get more mileage out of your case studies and give your sales team high-powered tools that help them wow their prospects and smash their sales objectives.
Want a case study strategy that elevates your sales team?
Creating high-impact case studies and related assets for sales and marketing is ALL we do.
Let's make your next customer success story the absolute MVP in your sales enablement arsenal.
Contact us to get started.