We're always talking about how case studies are one of the hardest-working types of content.
They can help you:
Build brand awareness
Present solutions that solve your audience's pain
Grease the wheels for decision making
Showcase results that inspire new leads
But did you know that email marketing is the perfect channel for sharing your stories?
With hard numbers, big results, and a gripping story, case studies leap out of the inbox. And with email's special features like segmenting and sequences, you can send that persuasive pop to the right person at just the right time to gain a new customer.
Try these 18 ways to leverage your case study content and amp up your opens, clicks, and sales.
18 Ways to Leverage Case Study Content in Email
1. Audience satisfaction. Your subscribers invited you to their inbox because they want to know more about how you solve their problems. Case studies answer their questions in an irresistibly sticky format.
Questions such as:
Do you help customers in their industry or niche?
Can you ease the challenges that are giving them heartburn?
Does your solution have the features they desperately need?
Will your results persuade their decision makers?
2. Gated lead magnets. Use a case study as an opt-in to grow your email list.
3. Metrics in subject lines. Putting the most impressive metrics in your subject lines snags attention. This could be something like:
"__% higher (metric) in ____(time). Interested?"
"What could you do with __% more ____?"
"How to get XX% more traffic for your ______"
"[Case study] How XYZ Company got _____ (result)"
Here's an example (and see how that headline pops?):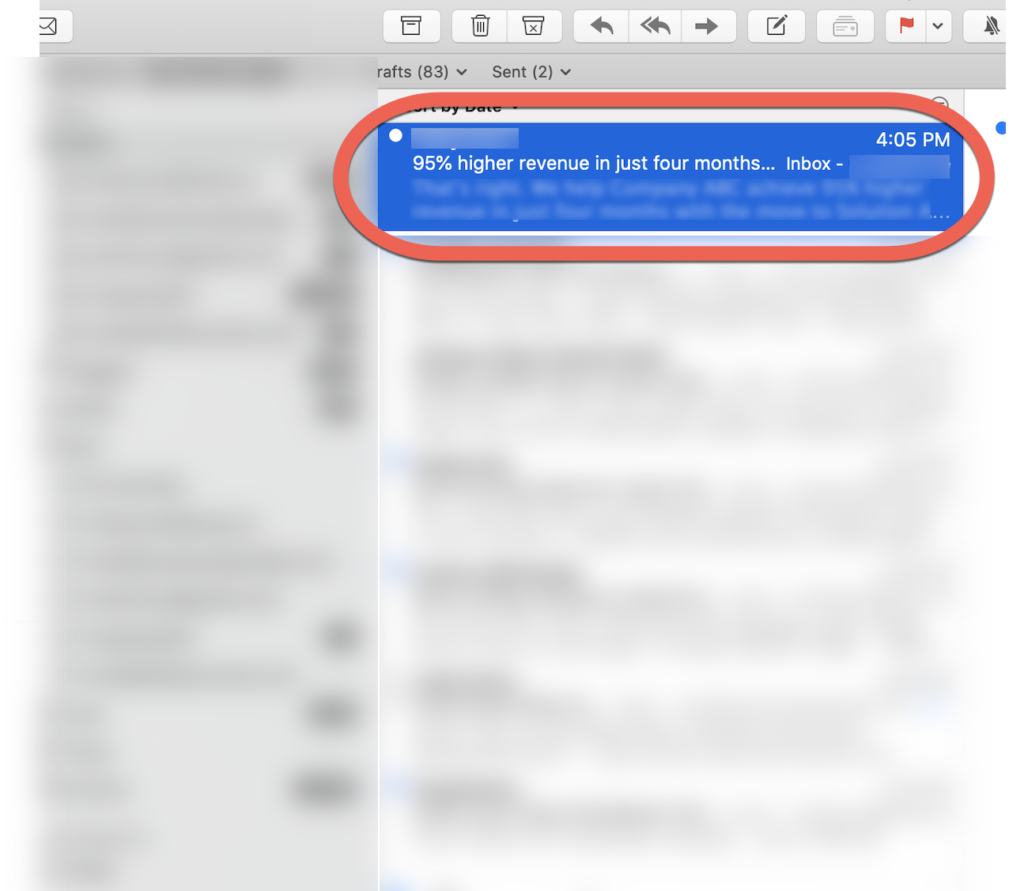 4. Quotes in subject lines. As above, but with your best customer quotes:
"I wish I'd known about XYZ Company sooner…."
"XYZ Company totally saved our bacon…."
5. Segmenting. Hand-picked case studies are the epitome of personalized persuasion. Send custom-fit stories to each avatar or segment based on:
Industry
Role
Pain points
KPIs
Case studies can also enhance segmentation in reverse. You can tag readers who click on the story and follow up later with related offers and content.
6. Welcome sequences. Rev up new subscribers by following your lead magnet with an exciting story that's connected to their goal.
7. Nurture sequences. Deepen your connection to subscribers by telling a story about how you solved the pain they're feeling right now.
8. Drip email series. Build up tension and craft cliffhangers with a drip email series designed around a case study. For example:
Email #1: discuss the frustrating problem
Email #2: give hope with the solution
Email #3: relieve the pain with results and a CTA.
9. Onboarding sequences. Help new customers set up your solution by sharing a study that demonstrates an interesting implementation.
10. Sales sequences. With hard-hitting details, case studies bring the perfect content as your readers progress through the later stages of the buyer's journey:
Consideration: showcase how your solution compares to competitors
Decision-making: confirm your value with impressive results.
11. Upselling. Use the success story to pitch a premium service or add-on product to existing customers.
---
Use the success story to pitch a premium service or add-on product to existing customers.
---
12. Newsletters. Repurpose your case studies as newsletter articles, or send teasers with links to download or view. This could be something as simple as:
"We helped a _______ company shorten its app development process by 12 months, giving it an important market differentiator for the next insurance open enrollment period. Find out how we did it here." <link to case study>
13. Re-engage dormant clients. Send an email that teases a scroll-stopping win and link to the full story.
14. Before and after examples. Convince on-the-fence prospects by spelling out exactly what life was like before and how much better life is after your solution.
15. Competitor comparisons. Craft a sequence about why one (or more!) customers decided to switch from a competitor's product to yours.
16. Cold email outreach. Include case studies as a wow-worthy demonstration of your capability.
17. Media pitches. Pitch journalists, editors, or media outlets and reel them in with concrete metrics and customer quotes.
18. Email signatures. Include a link to your case study page or a specific case study so that everyone you interact with will passively encounter your social proof.
Here's a quick illustration: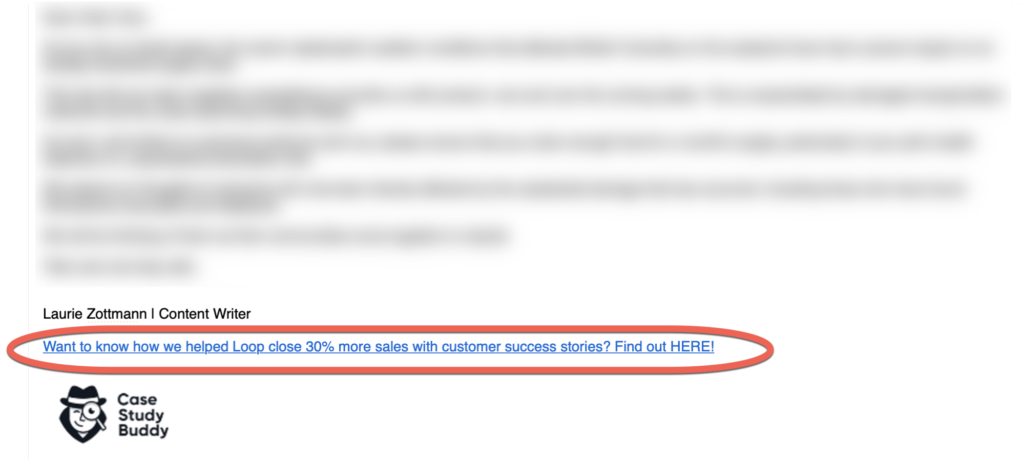 When you combine the irresistible drama and hard results of your case studies with the personalized experience of email, you get persuasive power that's hard to beat.
So give some of these email plays a try—and get your case studies working harder and driving more wins.
Want to talk about leveraging case studies in your email marketing?
Contact us and we'll help you get started.