Have you got case studies in hand and openings in your social media calendar?
Then you've got the makings of some scroll-stopping posts.
With their eye-catching metrics and compelling quotes, success stories make your social audiences perk up and click to learn more.
The great thing about case studies is you can break them into different assets that you can use in virtually any channel.
It's what makes them the most versatile resource in your sales and marketing arsenal.
And it just so happens that social media is the perfect channel for deploying and repurposing your case studies and everything you can derive from them.
For example, these sticky elements of case studies make them perfect for social:
Wow-factor headlines that spell out your capability
Satisfying solutions to your audience's painful struggles
Testimonial quotes that turbocharge trust
Audio and video clips of customers that feel like personal recommendations
However you choose to slice and dice them, they're a great way to fill your feed with credibility and catch the attention of your ideal prospects.
23 ways to charge your social channels with case study content
1. Infographics: Put your most impressive metrics into a branded infographic. They're great for visual platforms like Instagram or Pinterest.
2. Testimonial cards: Create image cards with client headshots and testimonial quotes.
3. Big name recognition: Add your customer's logo to your testimonial cards for extra brand name recognition.
4. Cover images: Use a testimonial and customer headshot as your cover image on Facebook or LinkedIn, or create a highlight card on Instagram.
5. Audiograms: Share quick audio clips from your case study interview on social media. 10–15 seconds is the sweet spot for maximum engagement.
6. Video clips: Share a quick customer testimonial video to satisfy scrollers and radiate credibility. After all, short-form video is one of the fastest growing types of content in social media marketing!
For example, here's a snapshot of a client testimonial we featured on our LinkedIn feed: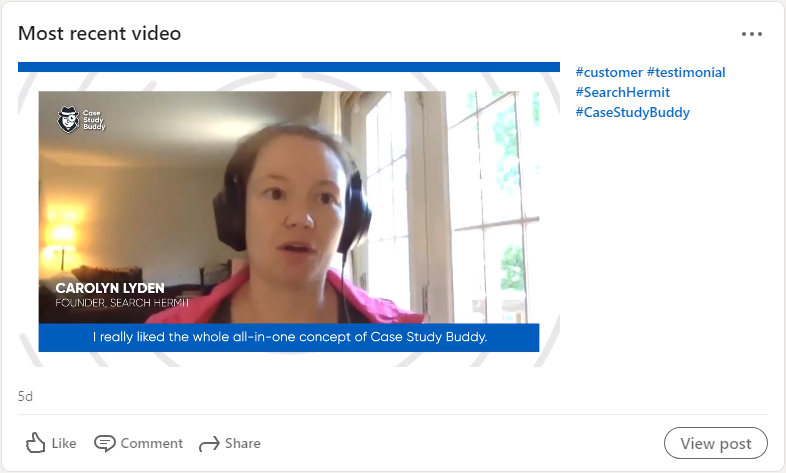 7. Process footage: Show your solution in action to educate the audience about a unique feature or use case that might solve all their problems—could be animation or a live-action clip.
8. Traffic boosting: Post a link to get more visits to the case study area of your website.
9. Avatar targeting: Link to a success story that speaks to a specific type of customer to grow that vertical.
10. List building: Tease the results of a case study in a post and link to an opt-in form where readers can get the full story.
11. Filling your sales funnel: Showcase a study where you solved a specific problem, link to a contact form, and tie it all together with an on-point CTA to get more discovery calls.
12. Authority building: Boost your street cred by sharing your case studies on platforms like LinkedIn Publishing and Quora, and in relevant groups on LinkedIn and Facebook.
---
Tease the results of a case study in a post and link to an opt-in form where readers can get the full story.
---
13. Cross-promotion: Tag the hero of your case study (i.e. the customer).
14. Conversation starter: Ask a question and get people talking about the main pain point in the case study.
15. Name dropping: Share a case study about your most impressive customer and tag them.
16. #Searchable: Hashtag topics that are top-of-mind for your audience to get more eyes on posts about relevant case studies.
17. Captivating captions: Start with a customer quote, and announce the case study headline in the image.
Here's what it looked like when we shared a customer quote and case study on Twitter: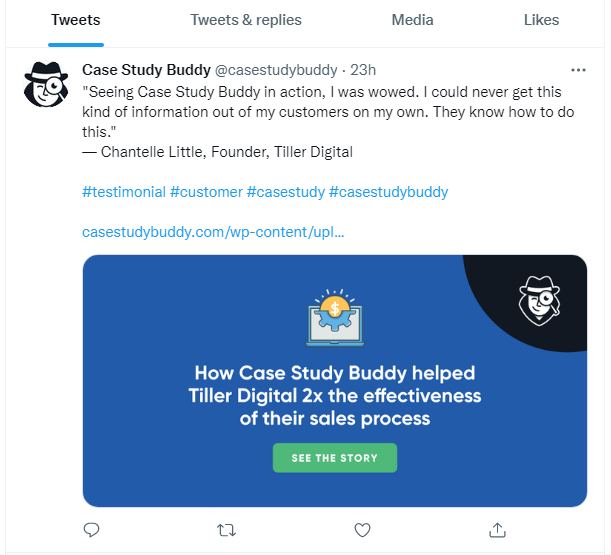 18. Testimonial teaser: Spoil the ending by stating the results in the caption, and use a testimonial card in the image.
19. Grow a customer vertical: Focus on the avatar you're trying to reach by calling out case studies with a relevant industry, role, or location.
20. Promote a product or feature: Share a case study that shows it in action.
21. Showcase your wins: Link to your case studies in the publications area of your LinkedIn profile or the highlights of your Instagram.
22. Amp up your ads: Use impressive results in your headline, and include testimonials and links to relevant case studies in the caption.
23. Lazer-guided targeting: Create ad audiences that connect to the case study customer's industry, location, or main pain point.
Now that you know how much wow-factor and authority case studies can add to your social media presence, you can start filling your feeds with thrilling tales of your customers' most satisfying successes.
Want a full set of social media assets with your next case study?
We offer supporting asset packages with your choice of:
Audiograms (10-15 second clips)
Slide decks (perfect for social ads!)
Testimonial cards (with customer headshot)
Video testimonials (professionally produced 1-2 minute clips optimized for social)
Contact us and we'll set you up!