Creating a good case study sounds pretty simple.
After all, it's just problem-solution-result, right? How hard can it be?
But when you actually put a case study together, a lot can go wrong. It takes nuance to tell your best possible story.
---
At Case Study Buddy, case studies are all that we do. Literally.
---
It's our job to keep an eye on what's working and what's not. And we've looked at hundreds and hundreds of them.
In the process of creating these studies, we see a lot of less-than-great case studies out in the wild.
Here are five of the most common case study mistakes we see.
1. Not getting the customer involved
A case study isn't a YOU success story. It's a customer success story.
Your customer should reside at the heart of the story, and you can only put them there with their input.
Without that input, you're only telling one side of the story, draining credibility.
Also, the absence of a customer's quote or headshot is a signal they're not willing to be associated with the story, which is another blow to credibility.
---
Just as importantly, not getting the customer involved is a massive lost opportunity.
---
Customer interviews are your chance to learn, unfiltered, why they liked working with you, what they found beneficial, what their hesitations and anxieties were, and what alternatives they considered.
You can use this information to improve your services, learn who your real competition is, and overcome objections with prospective customers.
This is why we always ask our clients' customers for feedback as part of our case study process. And our clients use that feedback to improve their businesses and unlock new opportunities.
But if you don't involve the customer, all that intel is lost.
2. Not having a strategy
Not having the customer involved in your case study hints at a larger underlying problem: not having a case study strategy.
Before you ever ask a customer to participate in a case study, you should have thought through and decided: what role you're going after, what message you want to send, what the pain point is, and what outcome you want.
You should also consider where in your sales funnel you'll use it and in which marketing channels.
Strategy also applies to the case study formats you choose.
Visual learners and scanners want bullet points and sidebars. So do busy executives.
Descriptive titles and subheads may be the only things that get read. If you don't give these folks the story in seconds, you may lose them.
In contrast, people who will be directly impacted by the product or service want more detail. Here, you can really dig into the ins and outs of a product's features or how a service was delivered.
There is no one-size-fits-all case study. Which is why strategy is so important.
3. Trying to tell too many stories
Another common mistake is trying to tell too many stories at once.
I get it. Of course you want to squeeze in every single good thing that happened.
But it leads to a disjointed storyline that's difficult to follow.
It's like smooshing together three different films. Ron Howard's Apollo 13, Frost/Nixon and The Da Vinci Code are all good stories (okay, maybe not The Da Vinci Code).
But jam all these films together, and you've got something unwatchable.
And frankly, your audience won't want to read a 5,000-word piece (or watch a six-hour movie) unless you've got a lot of prescriptive "how-tos" and takeaways they can learn from.
Ironically, having too much to tell can be a good sign.
It can mean you have a good strategy in place and the know how to capture detailed insights. When you do, it's no wonder you wind up with too many great quotes, details, and metrics to pack into one story.
So one of the hardest parts about creating customer success stories is being ruthless about what you cut and what you highlight.
4. Not having a descriptive title
When it comes to posting case studies on websites, we often see people slapping down the customer logo and not including a descriptive title.
A logo-only approach might work if the company is a household name. But unless your customer is Nike or Coca-Cola, a logo isn't enough.
Think about it. How do people decide which case study to click on? Most will just click on the brand they recognize. But that case study could be totally irrelevant to their industry, niche or pain point.
So for example, is it more useful to present something like this on your company's main case study page: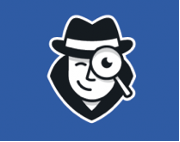 Or this?: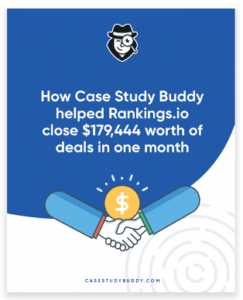 Of course, the second example conveys a lot more information and helps scanners decide which case studies are most relevant to their situation.
It includes the bare minimum of the names of the companies involved and the biggest result.
---
Ideally, your title should anchor in the big results your audience wants or the pain they want to alleviate.
---
You want something they can relate to.
You could also include a quick little teaser on your main page to give people a little bit more meat before they choose which case studies to drill down on.
5. Not having a call to action
A call to action (CTA) may seem like an obvious item to include, but it's surprising how many people overlook it.
You need the CTA to drive action. What is it you want people to do after reading the case study? What action do you want them to take?
Preferably, don't just go with the stock "contact us" CTA. Try to make the action relevant to the story you just told.
So if you just told a story about a particular pain point, you can promise to alleviate that pain point in the call to action.
For example, instead of a CTA like this:
"Get in touch"
Go for something more descriptive and relevant, like this:
"Get sales assets that close deals from a team who knows your niche.
Case Study Buddy is the easiest way to get powerful detailed case studies in a fraction of the time. 
Get in touch"
Avoid These Case Study Mistakes (and More)
Case studies are harder to do than you think. They can easily go off the rails.
At Case Study Buddy, we have a process for every single part of case study creation.
We've spent hundreds and thousands of hours thinking about case studies—so you don't have to.
Let's talk about your case studies and how you can avoid these common mistakes.
Contact us to start the conversation.