So your customer has agreed to provide you with a video testimonial. Wonderful!
Now you need to make sure they're ready for the shoot.
Here are four things you can do to prepare your customers for B2B video testimonials—without overwhelming them with requirements and suggestions:
1. Guide them on how to dress
The first question many customers will have is what to wear.
Generally, solid colours are better than patterns. All-white or all-black outfits are challenging to light properly.
Small patterns, such as checks, herringbone, and plaid can cause camera distortions.
Ask customers to dress comfortably yet confidently. When they feel comfortable and confident, it will show. So encourage them to wear their favourite go-to outfit.
At the same time, customers should dress appropriately for their brand. If they're an outdoor sporting goods provider, they can go with a more casual vibe. But if they're representing a law firm, a suit may be the better choice.
In other words, they should wear what they would normally wear in front of their target audience.
In addition, ask customers to not wear jewelry that will distract from their face.
Also, jewelry that makes noise can be picked up by the microphone and cause audio nightmares during the editing stage.
Face powder can be useful to reduce shine on faces.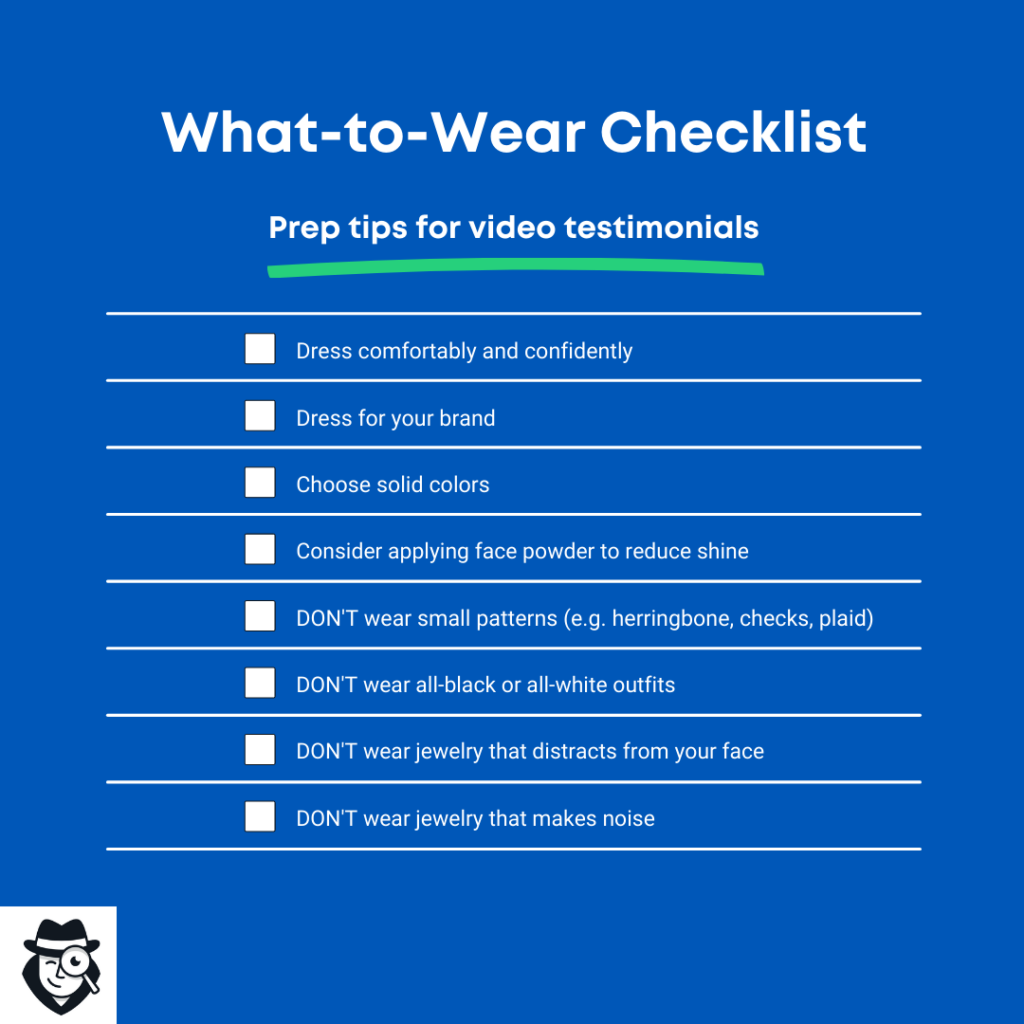 2. Ask them to get tech ready
If you'll be conducting the video testimonial interview remotely, ask the customer to install all computer software updates in advance.
If your video conferencing software performs better with a certain browser, ask the customer to download that browser and have it ready too.
If your customer will be recording the video locally, ask them to check to make sure they have enough storage space (especially if recording on mobile). You don't want them scrambling to delete content to create space on the fly.
Internet speed is also important for remote shoots. If they're regular users of video conference tools and haven't had a problem, they're probably fine. If not, ask that they shut down other screens and devices that could use up bandwidth during the shoot.
3. Provide a few questions in advance
Generally, we like to send a few interview questions in advance, simply because it helps put customers at ease.
By sending a few questions (not all of them!), you reassure the customer that they already know the answers to any questions you might have. This isn't something they need to study for in advance or memorize.
After all, the video testimonial shoot shouldn't be an exploratory journey. You and the customer already know the story—and it's just a matter of getting it on tape.
And sending a few interview questions in advance helps take the mystery out of it.
4. Share a visual guide
It's also a good idea to give your customer guidance on backgrounds, shot composition, and lighting.
For example, we sometimes send this handy reference image to our customers in advance of the shoot: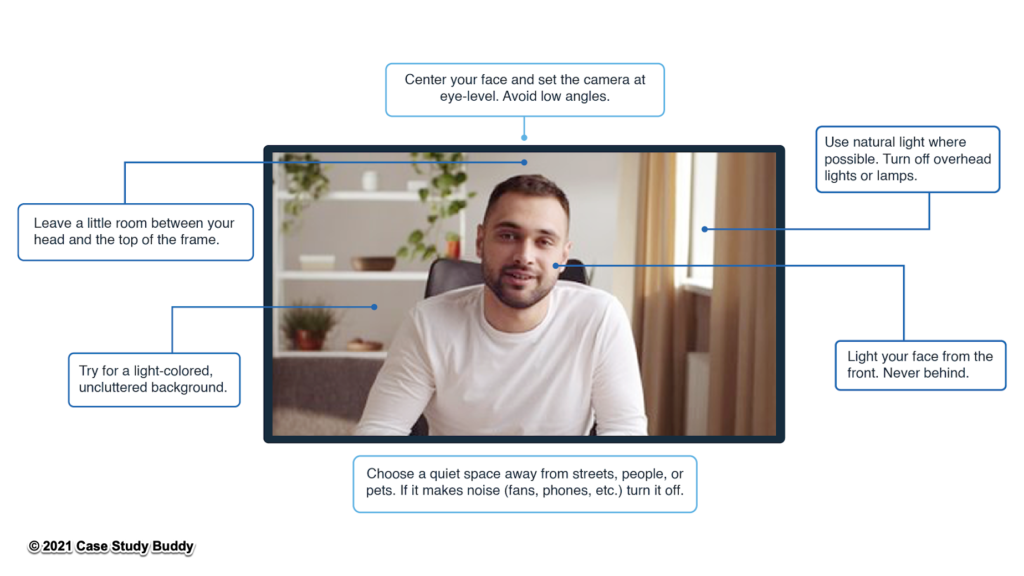 Good Preparation Puts Customers at Ease
While you don't want to overwhelm customers with demands and requirements in advance of the shoot, giving them some guidance up front will help them prepare—and also reassures them that you know what you're doing.
But even with the best possible advanced preparation, it's unlikely that everything will be perfect at the get-go.
So be prepared to spend a few minutes before the shoot making a few final adjustments.
While all this preparation takes time, it's well worth it to get the video testimonial you want—and that your customer is happy to share.
Need help getting your B2B video testimonials in the can?
Contact us to see everything we can do for you.