Want to build rapport even more quickly with your case studies?
Of course you do – any sane marketer should!
Case studies and customer success stories themselves are incredible pieces of social proof – but too often, businesses do nothing but the bare-bones-basics of communicating the "Problem, Solution and Results" in bullet points, without adding any depth or real social proof.
So what if we told you there was a way to immediately differentiate your case studies from your competitors? And what if we told you it was as simple as sending a few emails?
Yup. Here's how:
1. Add a quote from your client.
You'd think this would be glaringly obvious, but when we analyzed the websites of over 70 of the top digital marketing agencies in the world, we found that an incredible minority – less than 20% – were using quotes from their clients inside their case studies.
HUGE lost opportunity! 
You can't tell your customer's success story without them – so why not let them have a say?
In fact, at Case Study Buddy, this is standard practice. We always interview clients to get their side of the story, and turn that interview into several quotes and soundbites to help tell the story, like in this case study we did for Searchlogic:

Can you see how having your client share their side of the story adds a level of trust and credibility far beyond a bullet-point list?
Check out one more example from the folks at Distilled: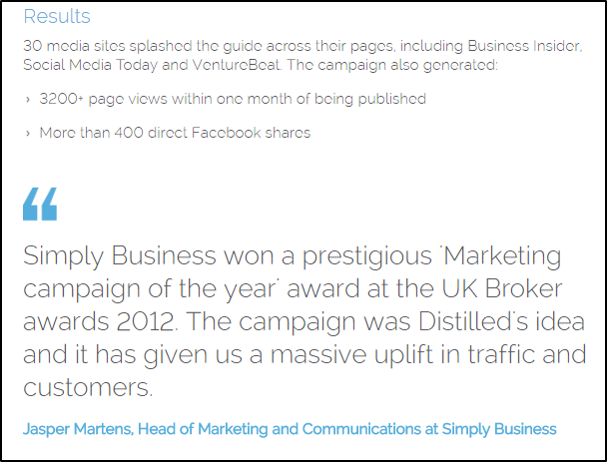 Now, every lead who reads that case study will see third-party proof that substantiates Distilled's story. Smart, right?
But what if you haven't done an interview, or the case study is already published? No problem – send a quick email to your client asking them if they're willing to do a quick survey, and send them a few questions about their experience, like…
What have you been able to achieve now with us that you couldn't before?
What's the best part of working with us?
If a friend asked you why they should hire us, what would you tell them?
Easy peasy.
2. Add your client's headshot
As you might've guessed, this one and the previous tip go hand-in-hand. Adding a quote is one thing – and Distilled is on the right track. But adding a headshot from your client immediately adds that next level of credibility because a lead will have no reason to believe the quote has been manufactured.
Here's another example from a case study we put together for Elucidat: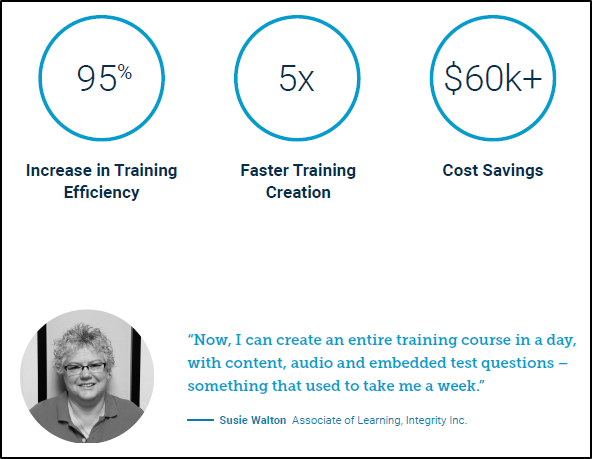 Boom – see how we share the metrics – and then humanize them right away with a quote and a headshot?
That powerful combo adds a human element that can go a long way in pursuing leads to work with you.
Remember: companies don't hire you or buy from you, the people in those companies do.
Anything you can do to show that real people made a decision to work with you will be powerful!