In the past 72 hours, I've received 37 emails with the word "COVID-19" in the subject line. Most of those are from businesses, outlining the steps they're taking to deal with the crisis.
I have one from my bank. My phone carrier. My movie theatre. Heck, I have one from KFC.
But the messages that inspire me have nothing to do with "cleaning measures" or "enforcing hand washing." The stories that keep me reading, caring, and engaging as a customer are the ones that prove to me that your business has a heart.
The stories that stick are the ones that…
1. Talk about what you're doing for your customers
Jason Purcell and Matthew Stepanic, co-owners of Glass Bookshop, knew that closing their doors would hurt their business. But they also knew that staying open would be irresponsible. So what did they do?
They took their books and started hand-delivering them (FOR FREE) to people in their community, on top of their normal cross-country shipping options.
They're going the extra mile (literally) to ensure that their customers stay safe, entertained, and well-read while self-quarantining. It's a small, simple gesture—but it's resonating in a big way with the local community that helps their business survive.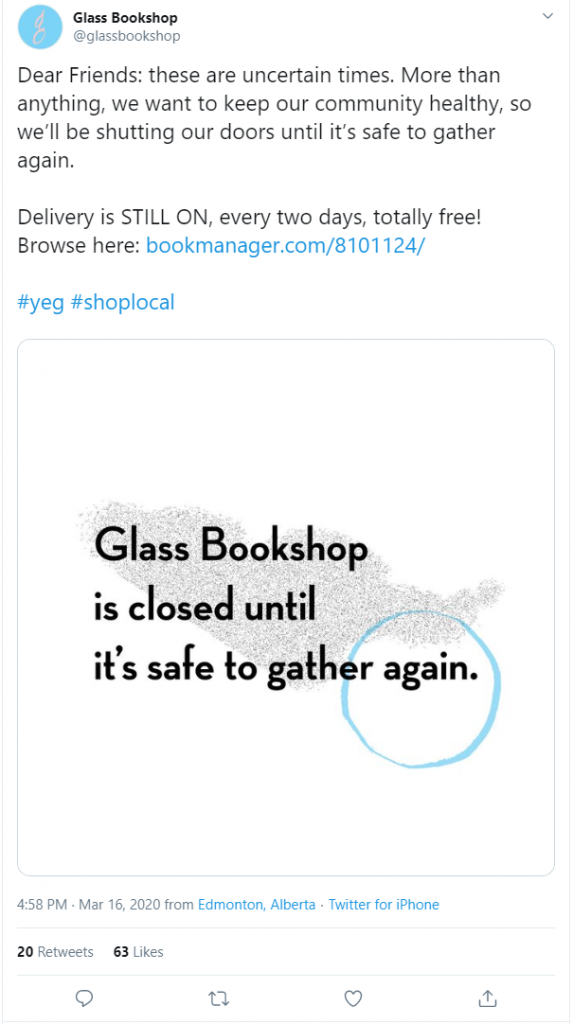 Even if you're not in the book-selling business, you can still take steps to show customers that you're thinking about their safety and doing everything in your power to support them. Some of the most powerful messages you can send during this time include stories about steps taken to…
Ease financial concerns. Let customers know you're thinking of ways to save them money, and—if you can—give them discounts or options to defer payments. Money's on everyone's mind right now and you can eliminate stress by addressing it head-on.
Make life as normal as possible. Think about quality-of-life changes you could introduce that would help customers feel like it's "business as usual." For example, pet stores could offer home deliveries and fitness trainers can start creating videos.
Provide uninterrupted customer service. Keep customers up-to-date about your digital capabilities and the steps you're taking to help them continue getting the best service possible.
Whatever you do, make sure you talk about it! This is the perfect time to tell stories via email, social media, and (if something you did made a BIG impact) case studies about how much you value your customers and the steps you're taking to prove it (beyond "sanitizing surfaces").
2. Prove that you prioritize employee health, safety, and livelihood
When Lulu Lemon shut down retail stores for two weeks to protect the public, there was a chorus of support from customers and employees. Even though their doors were closed, they promised to continue paying employees for the scheduled shifts they'd lost. Now that's good PR.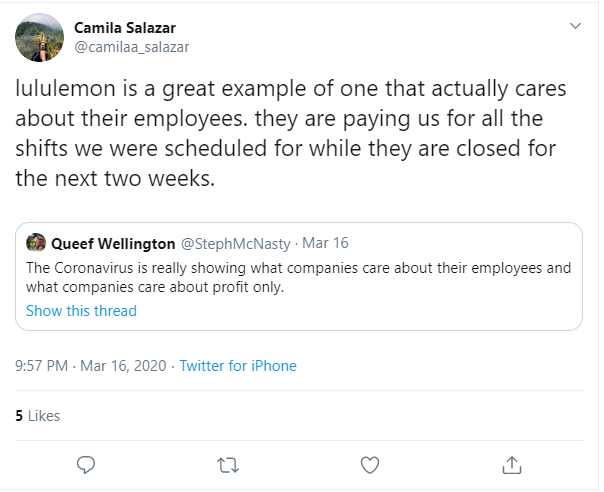 Meanwhile, other companies are getting lambasted for their lackadaisical responses to the crisis. You can bet that the public won't soon forget an irresponsible bar that packed people in like sardines on St. Patrick's Day (despite being told to shut down) or a hotel chain that sneakily circumvented unemployment benefits by reducing workers to zero hours without actually firing them.
Companies that demonstrate genuine concern for employee well-being now are going to emerge from this crisis with more brand loyalty—from customers and employees—than those that put their people at risk. During this time, you should be telling stories about…
Safety measures in place. Talk about cleaning procedures you're enforcing, remote working solutions, and how you're enforcing social distancing to protect employees.
Paid time off and leave policies. Money is on everyone's mind right now. You can lift a lot of stress by clearing the air about layoffs and furloughs, job security during times of crisis, and how you've looked after employees who are out on sick leave.
Many employees these days are worried about things like navigating health benefits, how to take care of children at home with schools closed, and the costs of getting tested for COVID-19. Alleviate some of that fear. Compile resources for your staff about the steps you're taking to protect them and the options available to them.
Use this time to gather employee feedback and assess areas that need improvement. Just be sure to adjust for the current situation. Word every request with empathy and understanding. If your employees are happy, it'll be a feather in your cap when the crisis is over.
Turning stories like this into case studies and email content is a great way to boost employee morale and invest in your brand reputation.
3. Show off something only you can do (and are doing) to help
Several breweries in my local area have banded together to fulfill the crazy need for hand sanitizer (and fill the vacuum left on grocery store shelves). Together, they've turned several distilleries into facilities that create, distill, and sell hand sanitizer: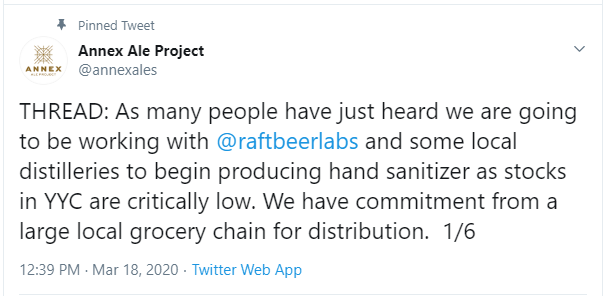 Around the world, other distilleries are doing the same thing. Even though taprooms are closed due to COVID-19, these businesses are taking pains to do what only they can do to fill an obvious public need.
You probably aren't in the business of turning moonshine into hand sanitizer, but there's a good chance that there are other things you can do that would be uniquely valuable to the people you serve.
These might include…
Offering freebies. Free delivery, free subscription services, waiving set up charges or first-month fees—all of these things will make a difference and may help you drive more business.
Lifting restrictions. Understanding that Zoom would be a go-to platform for business meetings, they temporarily lifted their 40-minute time limit on free conference calls. Certain phone carriers have lifted data caps. If your service normally restricts certain features, consider what you offer to help people through the coming months.
Moving classes online. Course creators, especially fitness trainers and other people who usually rely on a live audience, need to get creative. Consider hosting live streaming routines instead of your usual in-person classes, or turning to YouTube to build out a library of 'How-To' videos for the people quarantined at home.
These stories are important, because they tell us, "Here's what's going on. Here's how we're helping." Turn these into blog posts, social media announcements, and make sure people who visit your website know what's going on.
4. Brag (just a little) about how you're helping others in need
Clio, a Burnaby-based legal software developer, committed $1 million to support lawyers everywhere via their COVID-19 Legal Relief Initiative. The landing page hits all the right notes—it includes a heartfelt message from Clio's CEO, it's customer-focused (asking questions like "How can we help?"), and it directly addresses what the company is doing to help the legal community.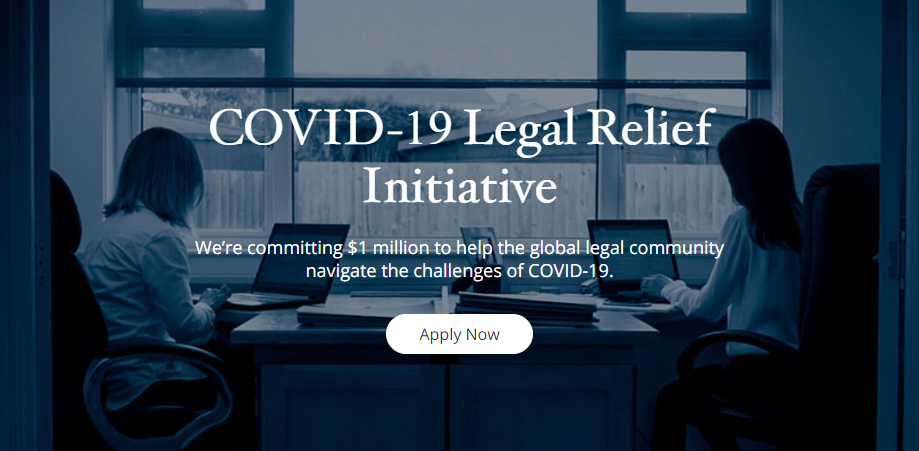 If your business is in a relatively good place to weather out this crisis, take a look at what you could be doing to help others. Even if it doesn't yield a story right now, you can bet that you'll emerge on the other side of this crisis with some great case study material.
Even if you can't do anything quite so grandiose, consider donating to a non-profit organization (like Giving Back Packs—a Spokane non-profit working around the clock to collect toilet paper for homeless shelters that are running low) and give back to the community that normally supports your business.
5. Get real about how you're weathering the crisis
Right now, I wish I was nestled into the creaky, well-worn, faux leather chair I always try to claim at one of my favorite haunts—an independently-owned, local café. I miss the warmth of the fireplace and the comfort of a steaming coffee in a cheap, pastel-hued ceramic mug at my elbow.
I wonder how that coffee shop is doing.
Then I think of my favorite Vietnamese restaurant. It's a small, family-owned business—and they create the best damn spicy sate broth I've ever tasted (seriously, that soup haunts my dreams).
Google tells me they're closed. I hope that closure is temporary.
The truth is, I have no clue how these businesses are doing financially—or if they'll be able to open their doors again in the weeks or months to come. They have no social presence and no website to speak of. They're not telling any stories
If I knew that ordering one more bowl of pho would mean the difference between survival and collapse, you can bet that I'd be first in line to support these businesses that I know, love, and would hate to lose.
In times like this, I wish I knew about…
Other ways to support the business. Keep people informed about ways to purchase online, buy gift cards, or even donate a little bit of money.
How social distancing is affecting business. Let people know the impact it's having on you, what you need, and use hashtags like #supportlocal to amplify your voice.
Plans for the future. Tell people what you've got brewing. New avenues you're exploring to keep your doors open and your employees paid. Give us something to look forward to.
Your loyal customers will be glad to be in the loop. And—while it shouldn't be your primary motivator—doing something as simple as keeping everyone updated on Twitter can have far-reaching benefits for you and your business.
When the dust has settled…
Stories are powerful. They connect us. They inspire us. And—especially these days—they keep us sane as we barricade ourselves indoors, reading books and binging Netflix.
It's easy to lose faith in humanity when you're being bombarded by news of fights breaking out over canned goods or people unconcernedly partying like a modern-day Typhoid Mary. In the midst of that, share some stories that encourage us and demonstrate that you've got your priorities straight.
From all of us here at Case Study Buddy, we hope you're staying safe and healthy. Don't worry—we'll be here when you need us.