How Case Studies Enable HubSpot to Exceed Attributed MRR Targets by 74%
When HubSpot needed to tell more customer stories, Case Study Buddy helped with the strategy, process, and content creation.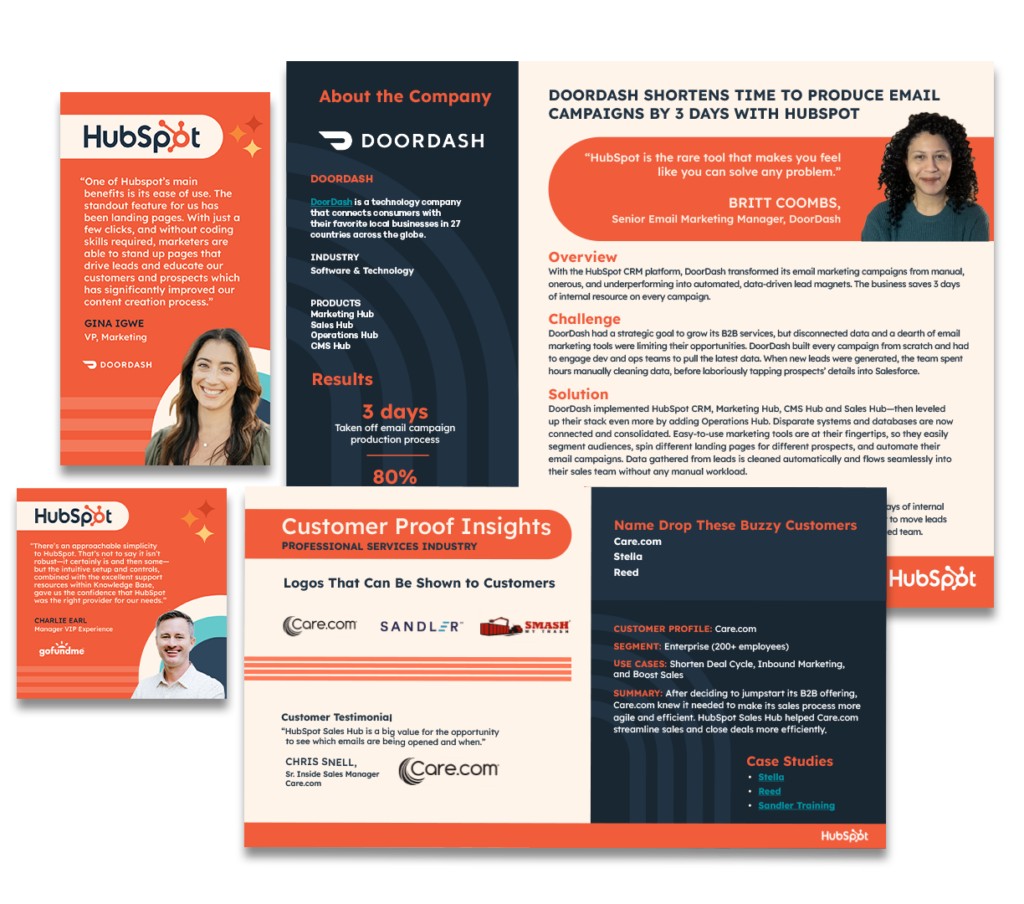 HubSpot teams served around the globe
Hours saved per month in case study creation

HubSpot is a customer platform with all the software, integrations, and resources you need to connect marketing, sales, content management, and customer service.
Empowering the sales team with case studies
In 2022, when Sam Cahoon stepped in as HubSpot's new Associate Product Marketing Manager, he was presented with a daunting challenge: create 20+ case studies by EOY featuring HubSpot's marquee brands advocacy program.
He wasn't sure if producing at that volume was possible. But he knew case studies were important to HubSpot's success.
"Customer stories are crucial to everything we do in product marketing and for our sales department. We want to tell powerful, buzzy customer stories that will resonate with prospects and showcase customers that use HubSpot to succeed and grow," Sam explains.
An overwhelming amount of work for any team
The problem, as Sam soon discovered, was that even one case study entails a mountain of work. Each story requires:
coordination between sales and marketing teams

ongoing customer outreach and communication

a flawless interview that digs deep in one take

detailed record keeping for the production team

a writer who understands the ins and outs of HubSpot

an editor to implement customer revisions

a designer to execute HubSpot's visual branding

a plan to publish and promote more intentionally

meticulous project management throughout
The process was daunting. Each story had to be tailored to HubSpot's biggest customers and each had to serve a purpose — showing off new features or services, impressive results, and of course, unique customer testimonials.
But creating a bespoke asset takes time.
"There are over nine different steps that go into a single case study; it's an extremely time-consuming, complex, and detail-oriented process," Sam explains.
Extending the marketing team's bandwidth
Fortunately, Sam inherited more than a massive case study program — he was also introduced to Case Study Buddy. This partnership would quickly become his secret weapon. 
"When I met Case Study Buddy, I was truly floored by how seamless they made the entire process. Case Study Buddy handles the customer coordination, conducts the interview, writes up case studies that are powerful customized and full-of-proof, coordinates the review process, and then delivers it to our inbox for us to publish," Sam says.
For most marketing teams, producing case studies at high volumes is a pipedream. But Case Study Buddy extends the bandwidth of HubSpot's marketing team, enabling them to get more stories in the pipe and execute at scale.
"When I met with Case Study Buddy, I was truly floored by how seamless they made the entire process."
Sam Cahoon (Associate Product Marketing Manager, HubSpot)
Developing a repeatable process
Case Study Buddy has been helping HubSpot spin up and execute its customer success story program since late 2020.
The original need was simple: HubSpot had a lot of stories to tell, but limited bandwidth for production and execution. Case Study Buddy stepped in to help develop and document a repeatable process, and get more stories over the finish line.
The new process was intentional: it outlined each step and included clear and actionable timelines. By minimizing stakeholders at each stage, we ensured that case studies continued to move through production at a rapid pace.
We also worked closely with HubSpot to develop a custom template and nail their visual and written branding. Case Study Buddy then eased bandwidth issues by taking on project management, interviewing, writing, and revisions.
Over the next few years, we continued to refine the case study creation process. By the time Sam Cahoon stepped into his role, it was already running like a well-oiled machine.
"We've become so efficient in working with Case Study Buddy. We've created a process that's easily duplicable and customizable with their help," Sam says.
Coordinating production at a global scale
The success of HubSpot's first few projects soon inspired more teams to get involved with Case Study Buddy.
Before long, we were handling production for many HubSpot teams across North America, including the teams in charge of Small Business, Startups, Professional Services, and more.
International HubSpot teams also reached out for their own case studies. We ramped up internal production to support HubSpot's needs and handle volume at a global scale. By the end of 2022, we had written hundreds of case studies for HubSpot's AMER, APAC, EMEA, UKI, and Nordilux teams.
"With Case Study Buddy's help, we are able to create 3X as many case studies on a monthly basis as we could before. They make the process so organized and stress-free," Sam says.
As HubSpot's needs evolved, we expanded our content to match. We began producing more standalone assets, including one-sheet synopses (perfect for events, like HubSpot's annual INBOUND conference), images for social media sharing, and audio clips of real customer testimonials.
All of this would have been impossible with a less organized partner. But that, Sam says, is why it's so important to have a professional to manage pipeline and keep projects on track.
"Our project manager — she's amazing. She handles each customer brand with so much positivity and professionalism. It's a great representation of HubSpot's own values, and a big part of why I place so much trust in the Case Study Buddy team to handle any project, no matter the size," Sam says.
In 2022, Case Study Buddy also launched a new client portal which enables Sam to track dozens of projects in real time. It's quickly become his favorite feature.
"The client portal is a game changer. For any case study, I can see everyone who's involved in production, what part of the process they're in, and receive constant updates," Sam says.
Scaling the marquee brands advocacy program
With Case Study Buddy in the wings, Sam successfully scaled production of case studies featuring HubSpot's biggest and most well-recognized marquee brands.
Together, we lined up and produced case studies at a rapid clip. We interviewed and showcased the success that huge, recognizable brands have achieved with HubSpot.
"HubSpot's marquee brands advocacy program is, in essence, a program in which we strive to tell the stories of some of our buzziest brands, to show that HubSpot is a great fit across a wide variety of industries," Sam explains.
Soon, we were producing more than two dozen case studies annually for the advocacy program alone. With so many projects on the go, it would be easy to lose track. But the client portal ensured that Sam stayed up to date on the status of each and every active project.
By the end of 2022, we had helped HubSpot produce more than 30 stories about its marquee customers.
"At any given moment, we have up to 12 projects ongoing from 10 different regions requiring input from 15+ stakeholders. Without Case Study Buddy, it would be an overwhelming amount to manage," Sam explains.
"With Case Study Buddy's help, we are able to create 3X as many case studies on a monthly basis as we could before."
Sam Cahoon (Associate Product Marketing Manager, HubSpot)
More strategic case studies at scale
In the years since our first project, Case Study Buddy has cemented itself as an invaluable partner for HubSpot. Our hand on the wheel has helped Sam's team save hundreds of hours while producing a high volume of strategic stories.
"Case Study Buddy has freed up so much of my time [as a product marketer]. I've been able to save 25 hours a week through the help of Case Study Buddy relieving so many of the stressful elements. This allows me to focus more on the creativity and strategy in our case study process, while they handle all the coordination, project management, and tough research that goes into every case study," Sam says.
This partnership has enabled Sam to do a lot more with fewer resources. Taking the onus of case study creation off of his plate has helped him maximize budget and bandwidth, and enabled him to focus on the program's big picture.
Rocketing past publication and MRR goals
HubSpot's case study program is now quite robust. With Case Study Buddy's help, they were able to identify their largest coverage gaps and build stories that directly address those gaps and convert leads. Every new strategic story is another sales-enabling asset for HubSpot.
"When it comes to monthly recurring revenue attributed to our case studies, we were able to exceed our year target by 74% with the help of Case Study Buddy. We didn't just hit our coverage gap goals this year, we skyrocketed past them."
According to Sam, with Case Study Buddy's help, HubSpot's case study program met and exceeded its coverage gap goals by 26% in 2022. It's on pace to surpass that in 2023.
HubSpot makes prolific use of each case study — in a place of pride on their website, splashed across social media, and throughout the sales funnel to attract leads and close deals.
"I've been able to save 25 hours a week on our case study process through the help of Case Study Buddy."
Sam Cahoon (Associate Product Marketing Manager, HubSpot)
Get high-impact stories that scale.
Supercharge your global marketing campaigns with strategic success stories.